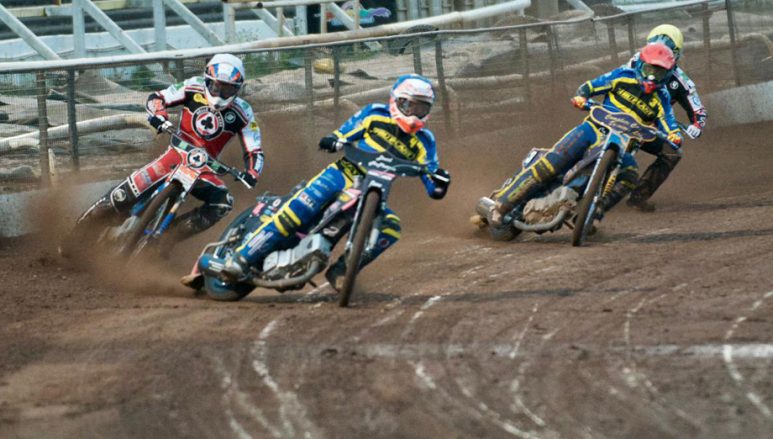 SHEFFIELD moved to the very brink of play-off qualification with a hard-fought 49-41 win over Roses rivals Belle Vue at Owlerton.
British Champion Adam Ellis and an outstanding Jack Holder secured victory for the Tru Plant Tigers with a last-heat 5-1 which also ensured the Aces went home point-less.
The visitors had forced the decider with a 4-2 in Heat 14 although home man Josh Pickering split Charles Wright and tactical substitute Dan Bewley, and in the vital race Ellis gated with Holder taking Bewley wide and then switching inside Wright for the maximum advantage.
Holder dropped just one point on his way to a 14-point total with Ellis adding 10+1, whilst Wright was top scorer for the Aces with 10+1.
Sheffield boss Simon Stead said: "The boys really dug in and that's exactly what we wanted from them, and exactly what we spoke about prior to the meeting starting.
"We knew it was going to be tough – Belle Vue have got a lot of riders who ride Sheffield extremely well, but they dug deep and it's a good result against a very good team.
"A special mention to Danyon (Hume) because he's really stepped up, he got a crucial race win in the middle of the meeting and he rode his socks off."
Belle Vue reserve Tom Brennan (8+1) said: "We're disappointed to have missed out on a league point after battling so hard all evening.
"But this was a much-improved performance from all the boys and to have only conceded two 5-1s all night is a pretty good achievement.
"Sheffield are powerful at home and we expected them to push us hard, and is was tough having lost both Jye (Etheridge) and Nikolaj (Busk Jakobsen) at the eleventh hour. But hopefully they will be fit to race on Monday."
OFFICIAL REFEREE SCORECARD
Racecard available here
Photo Credit: CHARLOTTE FLANIGAN