| Date | Tapes Up | Competition | Season |
| --- | --- | --- | --- |
| Thursday, July 15, 2021 | 7:30 pm | Premiership | 2021 |
Report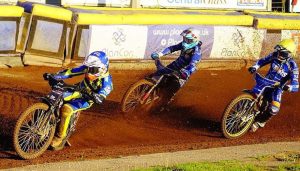 SHEFFIELD were taken right to the wire before securing a 46-44 win over bottom club King's Lynn at Owlerton.
The Tigers needed a Heat 15 5-1 from Adam Ellis and skipper Kyle Howarth to see off the Stars, who had opened up a six-point lead in the early stages which would have been more but for late mechanical trouble for Ricky Wells in Heat 4.
Ellis reeled off four wins after a first-ride last place to finish on 12 points and Howarth added 10+1, whilst guest Chris Harris top-scored for the Stars on 10+1, and Richard Lawson added 9 as the visitors had to settle for a league point.
Howarth said: "King's Lynn kept chipping away at us and they just wouldn't let us go. Rob Lyon guested for them as a manager and he played his part.
"We don't like these last heat deciders but to grab a 5-1 and get the three points, that's what we needed. We managed to come out on top in the end and get the job done."
Lawson said: "I think especially with them missing Jack (Holder), we really wanted to take advantage of that – we wanted to win.
"We got close, but didn't pull it off unfortunately. It's hard to take but it is what it is. You've got to take the positives from these sorts of meetings though, and we're not rolling over for anybody."
OFFICIAL REFEREE SCORECARD
Racecard available here
Photo Credit: PHIL McGLYNN