| Date | Tapes Up | Competition | Season |
| --- | --- | --- | --- |
| Monday, May 31, 2021 | 7:30 pm | Premiership | 2021 |
Report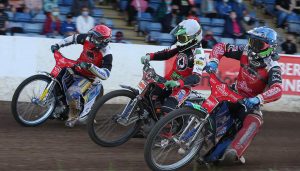 DAN Bewley's incredible run continued with 29 points from a possible 30 as Belle Vue went top of the Premiership table.
Bewley scored a 15-point maximum as the Aces were held to a 45-45 draw from their home clash with Peterborough on Bank Holiday Monday lunchtime – with the GB star (pictured in blue) combining with Brady Kurtz (red) for a last-race 5-1 to tie the match.
The Manchester side then won 50-40 in the evening return at the East of England Arena with Bewley adding a further 14, dropping his only point when he was penalised for touching the tapes and still came through for second place.
Ulrich Ostergaard starred for the Panthers with 11+1 as they picked up two league points on the road, whilst fellow Dane Hans Andersen led the way at home with 13+1.
Aces boss Mark Lemon said: "To win a meeting on the road is fantastic, but to win it by such a huge margin and pick up all of the league points on offer was just what we wanted.
"These are points that could be fundamental come the end of the season, and everyone chipped in and contributed to our efforts throughout the day.
"Dan was simply sensational, and we were thoroughly impressed with Tom Brennan's performance at Peterborough. He only dropped two points and he's never seen the track before!"
Andersen said: "It would have been nice to start the season with a win, especially after the performance we put in away at Belle Vue.
"But you have to remember that not all of us have raced the bike in nearly two years, myself included, so getting more and more laps in is vital.
"It was so nice to be riding in front of the fans again. I've always enjoyed riding here, I've been here 20 years or so, and the fans have been just as eager as we have to get on track again, so it's nice to see them and give them a show."
OFFICIAL REFEREE SCORECARD
Racecard available here
Photo Credit: JEFF DAVIES