| Date | Tapes Up | Competition | Season |
| --- | --- | --- | --- |
| Monday, August 2, 2021 | 7:30 pm | Premiership | 2021 |
Report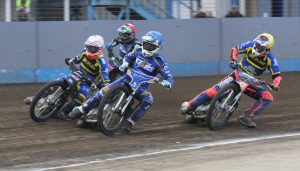 SHEFFIELD charged into the top four of the Premiership with all four points from a 49-41 win at King's Lynn.
The Tigers overcame the mid-meeting withdrawal of Adam Ellis after a Heat 9 crash to take their first away victory of the season, and leapfrog over Ipswich in the process.
Recent signing Josh Pickering stared with 12+1 including a vital Heat 15 effort to pass Thomas Jorgensen for the extra league point, whilst Richard Lawson carded 12 for the bottom-placed Stars.
Sheffield boss Simon Stead said: "I think we were pretty convincing. When you look down the one-to-seven, we had everybody doing their job.
"It was a really good, solid display, and one that I've always felt has been in there. For one reason or another we've just not been able to show our true form until now, but I've always felt this was something we were capable of."
Stars manager Alex Brady said: "It's a tough result to take. The performance from a lot of the boys was very good, but unfortunately we couldn't get out of the starts in the crucial heats.
"We had some good heat winners, the first four were from King's Lynn, but we couldn't pack the minor places which is crucial in every meeting, and it just wasn't our night."
OFFICIAL REFEREE SCORECARD
Racecard available here
Photo Credit: DEREK LEADER