| Date | Tapes Up | Competition | Season |
| --- | --- | --- | --- |
| Thursday, July 1, 2021 | 7:30 pm | Premiership | 2021 |
Report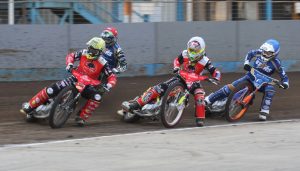 PETERBOROUGH are now four points clear at the top of the Premiership after a 54-36 victory at bottom club King's Lynn.
The rampant Panthers made it six straight victories, securing the victory with four 5-1s in a six-heat spell after home guest Rory Schlein had crashed out.
Schlein was taken to hospital for checks on his chest and neck, whilst recent signing Richard Lawson took seven rides to score 16 points for the hosts. Scott Nicholls (11+1) and Bjarne Pedersen (10) led the way for the solid-scoring Panthers.
Peterborough boss Rob Lyon said: "The meeting was soured by Rory's injury, and we just hope he's okay after going off to hospital.
"But four points was what we came for, and four points was what we've ended up with. When we got going again the boys just turned the screw, and it was a great performance.
"We're full of confidence and it's a happy camp. You can't get away from the fact that King's Lynn had their problems, but we had to do our job with what was in front of us, and the boys put on a great show again."
Stars manager Peter Schroeck said: "The boys gave it their all and we were only two down, but then we lost our No.1 and we just didn't have enough in the tank.
"Rory's crash was one of those awkward ones more than anything, and then he got hit by his bike.
"Then it was a bit of a nightmare, to have a rider laying injured in an ambulance and two other riders just coming back from injuries who had to take extra rides for him, but we can only try our best and today it just wasn't meant to happen."
OFFICIAL REFEREE SCORECARD
Racecard available here
Photo Credit: DEREK LEADER