| Date | Tapes Up | Competition | Season |
| --- | --- | --- | --- |
| Tuesday, July 27, 2021 | 6:30 pm | Championship | 2021 |
Report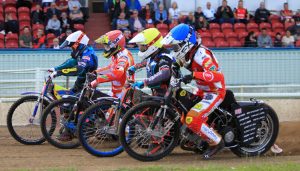 POOLE kept up their impressive run with a 52-38 win at Kent for their first maximum-points away victory of the Championship season.
The Pirates' Rising Star Danyon Hume put in a sensational performance at Central Park, top scoring with 12+1 including two wins and a paid win in the latter half of the meeting.
Heat-leaders Rory Schlein and Danny King added 11+1 and 11 respectively for the visitors, whilst Paul Starke led the way for the Kings with 12.
Hume said: "I am really buzzing about the way things went tonight, it was just great to be able to go out there and put a double figure score together.
"It was nice to be given some extra rides by Middlo (Neil Middleditch) and he was so encouraging.
"At one point I asked him how the meeting was going, I think there was about four points in at the time, he just told me to stay calm and go out there and make some starts. Thankfully I did so, and I am just one really happy guy tonight."
OFFICIAL REFEREE SCORECARD
Racecard available here
Photo Credit: GEOFF YOUNG