| Date | Tapes Up | Competition | Season |
| --- | --- | --- | --- |
| Tuesday, June 8, 2021 | 6:30 pm | Championship | 2021 |
Report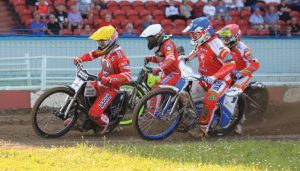 GLASGOW kept up their 100 per cent start to the Championship campaign with a 51-39 win at Kent.
The Tigers collected all four league points from their trip to Central Park despite trailing by four points on the night after Heat 7.
Both sides lost a reserve with Glasgow's Jack Smith falling and being collected by Kent's Dan Gilkes in Heat 2, with the pair suffering arm and foot injuries respectively.
Kings skipper Scott Nicholls racked up a magnificent 19-point haul from seven rides, but the solid Tigers were led by strong displays Broc Nicol (12+2) and reserve Sam Jensen (10+2).
Glasgow boss Cami Brown said: "Broc was the start of the night dropping just one point to an opponent, and Sam Jensen was absolutely brilliant as well – despite having to ride seven times.
"A special mention for Justin Sedgmen, who popped out with two important wins. But everybody contributed, which was really good. We had some fans here too which was really nice to see."
Nicholls said: "It was always going to be a tough match as Glasgow are most people's tip to win the title, and then we had to cope with R/R for Cameron (Heeps) and losing Dan to injury right at the start.
"So I thought we did really well to hang on in there as long as we did and indeed give the Tigers a fright by pulling away into a handy lead in the first part of the meeting."
OFFICIAL REFEREE SCORECARD
Racecard available here
Photo Credit: GEOFF YOUNG