| Date | Tapes Up | Competition | Season |
| --- | --- | --- | --- |
| Friday, September 3, 2021 | 7:30 pm | Championship | 2021 |
Report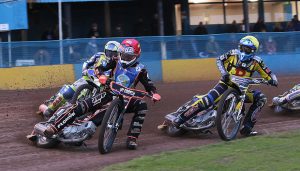 BIRMINGHAM are now firmly in the Championship play-off equation after a dramatic 45-45 draw at Edinburgh.
The match reached a controversial conclusion with the Brummies' Erik Riss disqualified from Heat 15 after Sam Masters fell on the first bend.
The Monarchs had scored a 5-1 in Heat 14 to give them the chance of a win, but Chris Harris split Masters and Josh Pickering in the re-run to draw the meeting.
Edinburgh had been hampered by the retirement of Nathan Greaves prior to the event, whilst Kye Thomson crashed out in Heat 9, suffering shoulder and rib injuries.
Monarchs boss Alex Harkess said: "We've certainly got Drew Kemp to thank for getting us back into the match, taking four on the trot.
"I'm pretty sure Anders Rowe is going to come good too, and Archie Freeman could have made a major contribution in his third ride but for his bike spluttering.
"I wasn't happy with the ragged start to Heat 13 but I'm not complaining about the decision to exclude Erik Riss in the last heat. I expected all four. If we had got a decision like that against us, I'd be fizzing mad."
OFFICIAL REFEREE SCORECARD
Racecard available here
Photo Credit: JACK CUPIDO