| Date | Tapes Up | Competition | Season |
| --- | --- | --- | --- |
| Saturday, September 18, 2021 | 7:00 pm | British Youth Championship | 2021 |
Report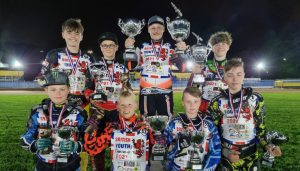 THE 2021 British Youth Championship was concluded at Plymouth on Saturday night where 125cc rider Cooper Rushen was crowned British Champion alongside Ben Trigger (500cc) and Luke Harrison (250cc).
With Trigger and Harrison having already claimed their titles at the previous round at Leicester last month, all eyes were on the remaining rostrum places for the 250cc class, along with the 125cc Championship, which was still wide open between series leader Stene Pijper and Rushen.
Rushen knew only a win on the night would be enough to force a run-off with Pijper to decide the Championship, and coming off the inside gate in the Final he made no mistake, although Jamie Etherington kept him honest for the whole race.
Although Pijper had the favourable inside gate in the run-off, there was no denying Rushen's determination and a brave first corner shot him to the front and Pijper for all his effort had no answer with Rushen crossing the fishing line to claim his first British title and Pijper having to settle for the silver medal.
The bronze medal went to Etherington as an impressive 11 points in the qualifiers and the all-important second place in the final ahead of his nearest rival Oliver Bovingdon, which was enough to claim the podium finish.
The race for the podium in the 250cc class also went down the very last heat, with Max James claiming the silver medal with and impressive full house in the qualifying heats, and for the bronze it was between Ace Pijper and Jody Scott who both qualified for the Final.
In the re-run after James had been disqualified after clashing with Pijper, Pijper bravely got out from underneath the air fence to just do enough to finish ahead of Scott to claim the bronze medal.
BRITISH YOUTH CHAMPIONSHIP, Plymouth
500cc
1 Ben Trigger
2 Max Perry
250cc
1 Luke Harrison
2 Ace Pijper
3 Jody Scott
4 Max James
125cc (a)
1 Cooper Rushen
2 Jamie Etherington
3 Stene Pijper
4 Oliver Bovingdon
Cooper Rushen beat Stene Pijper in run-off for 125cc title
125cc (support)
1 Harry Fletcher
2 Kayden Mundy
3 Casper Kluczniak
4 Seth Norman
OFFICIAL REFEREE SCORECARDS
500cc Class Racecard available here
250cc Class Racecard available here
125cc A Class Racecard available here
125cc Support Class Racecard available here
Final Standings (After 6 rounds)
(Each rider dropping their score from one round)
500cc
1 Ben Trigger 90 Points
2 Max Perry 78
3 Alex Goldsbrough 65
4 Vinnie Foord 36
5 Callum Gill 36
6 Cameron Taylor 16
7 Sam McGurk 12
250cc
1 Luke Harrison 90
2 Max James 70
3 Ace Pijper 68
4 Jody Scott 65
5 Sonny Springer 63
6 William Cairns 55.5
7 Ashton Vale 46.5
8 Freddy Hodder 40
9 Charlie Wood 8
125cc
1 Cooper Rushen 84
2 Stene Pijper 84
3 Jamie Ethrington 72
4 Oliver Bovingdon 69
5 Billy Budd 54
6 Archie Rolph 53.5
7 Caydin Martin 41
8 Rico Joyce 28.5
9 Owen Booth 11
Photo Credit: