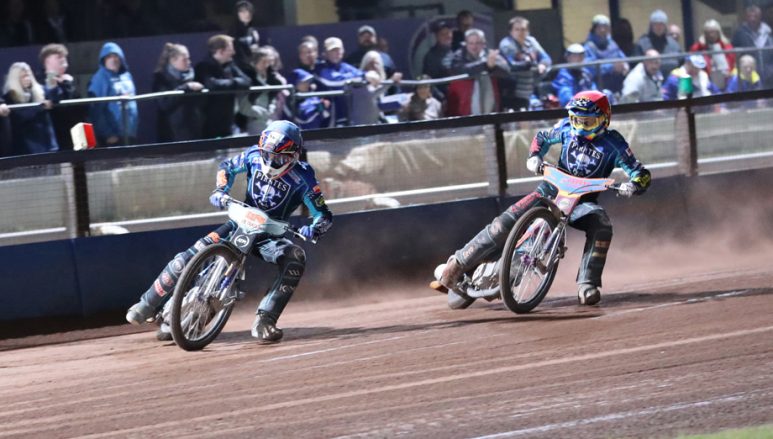 POOLE are through to the Championship KO Cup Final after a strong finish to beat Leicester 55-35 at Wimborne Road.
The Pirates trailed by eight points going into the second leg and the aggregate scores were all level with four races remaining.
But guest reserve Zach Cook played a vital role with a tie-levelling 5-1 alongside Danny King in Heat 11, and in the next race he gained another paid win with Steve Worrall after the Lions' Ryan Douglas had fallen.
Steve Worrall scored a 15-point maximum for the Pirates as they won by 12 points on aggregate, with Leicester skipper Kyle Howarth scoring 12+1.
Worrall pinpointed a superb ride by Benjamin Basso to pass Howarth and Zaine Kennedy in Heat 8 as a major turning point in the tie.
He said: "That was a key moment. It brought inspiration and fire into the team, and we were able to kick on from there and in the end we did it comfortably.
"But it was tense in the pits at times, and we all had to dig in to get us over the line, but this is a team sport and that is what it is all about.
Howarth said: "It's disappointing to go out of the Cup but we gave it a good go. It looked like we could take it to the last race, but they were strong towards the end.
"Now we have to focus on Scunthorpe over two legs in the play-offs. We could yet potentially have six meetings to race this season and we want those extra meetings, but we want success for Leicester."
OFFICIAL REFEREE SCORECARD
Racecard available here
Photo Credit: ANTHONY BURCHELL
Neil Middleditch Post Match Interview : Brought to you by Poole 'Pirates' and Speedway Portal.