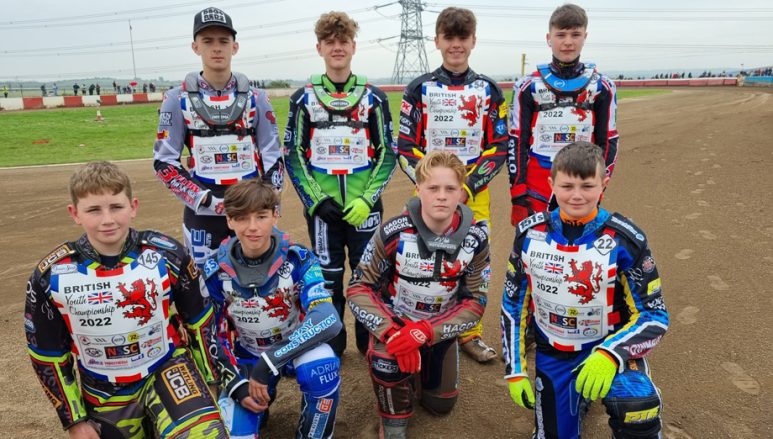 PREVIEW: BRITISH YOUTH CHAMPIONSHIP (Sat & Sun)
THE 2022 British Youth Championship Series gets underway in earnest this weekend with back-to-back full rounds at Edinburgh today (Saturday, 2.30pm) and Glasgow tomorrow (2pm).
There are 30 qualifying races and 30 riders taking part in both events, with the 125cc class taking to the track for the first time this season
The 500cc class has eight quality riders taking part, including NDL regulars Sam McGurk, who currently leads the series after winning Round 1, Ace Pijper, Freddy Hodder and current champion Ben Trigger.
The 250cc class is equally impressive with double British 250cc champion Luke Harrison already leading this year, with Sonny Springer and William Cairns also currently in the top 3 after Round 1.
It is the first showing of the 125cc and support classes in this season's Championship, with the 125cc class looking particularly hard to call with the likes of Stene Pijper, Oliver Bovingdon, Archie Rolph and Seth Norman chasing Cooper Rushen for his British Championship trophy, plus local favourite Caydin Martin and new boy Oliver Binns.
The support class has the biggest numbers, with nine riders in this class and plenty of local interest in riders from the Edinburgh Academy making their debuts in this series – Lewis Hague, Rocco Webb and Zaak Gallacher.
GB Youth boss Neil Vatcher said: "Supporters can pay at the turnstiles and come along and watch the stars of the future.
"Remember it was only a couple of years ago that the likes of Tom Brennan, Drew Kemp and Jordan Palin to name just a few were competing in this series, and only last weekend those same riders were representing Great Britain in the FIM European Under-23 Team qualifier in the Czech Republic."
The Young Lions Management would like to thank both the Edinburgh and Glasgow promotions for their continued support of British Youth speedway, along with their series sponsors Nuneaton Speedway Supporters Club, Wessex Marine, Friends of Speedway, Rentruck, Foxbury Motors, RMCS Racing, ATPI, Abrams Insurance Services, Northern Scaffolding Solutions, Royle T Racing and the BSP Ltd Members.