| Date | Tapes Up | Competition | Season |
| --- | --- | --- | --- |
| Wednesday, August 4, 2021 | 7:30 pm | Championship | 2021 |
Report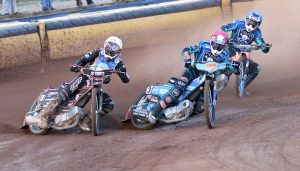 POOLE extended their unbeaten run to nine matches by defeating Edinburgh 48-42 at Wimborne Road.
The Pirates dominated the first half of the meeting to go 14 points clear, but the Monarchs bounced back strongly and secured a league point courtesy of a last-heat 5-1 from Sam Masters and Richie Worrall.
Rory Schlein scored 12 points for the Pirates and clocked the fastest time of the season in Heat 1, with Steve Worrall picking up 10. Masters (13+2), Richie Worrall (10+1) and Josh Pickering (10) led the visitors' scoring.
Schlein said: "We managed to get the job done to keep the league points flowing. You look at Edinburgh and can see why they are a top four side and they have done well previously on the road this season, so to get the win was important.
"It doesn't really matter how you win as long as you get it in the end."
Monarchs boss John Campbell said: "It was a very, very tough start. I couldn't believe it – to go so many races without winning a race is not our style, but when we got back into we certainly got back into it, and Sam and Richie were brilliant in Heat 15 to get the point.
"This is the toughest top three we have come up against this year, and after not starting well against then we have come out on top of them at the end to get us that vital league point."
OFFICIAL REFEREE SCORECARD
Racecard available here
Photo Credit: ANTHONY BURCHELL